Category:South East Wales Sandstone
From SWMC Guidebook
Contents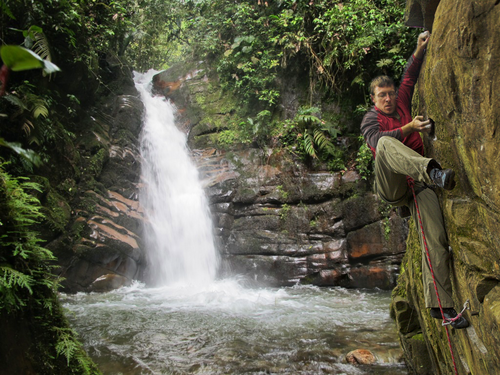 If you are not familiar with the sandstone quarries of the South Wales Coalfield the following should be noted:
The sandstone rock texture ranges from moderately soft and sandy (Llanbradach & Sirhowy) to hard and crystalline (Cwmaman, Mountain Ash) with some natural edges similar to gritstone (Penallta). Whichever type you encounter there is a chance that small flakes and edges will snap off, even on well travelled routes, fortunately most of the routes are sensibly bolted for this unlikely eventuality.
The typical sandstone season extends from Easter to October, during the winter there are limited chances to find dry rock (exceptions can include Cwmcarn, Navigation Quarry, the slabs at the Darren, left wall of lower quarry of The Gap, Penallta, Trehafod and Trebanog). After periods of prolonged heavy rain most of the crags require a drying off period, even during the summer.
As with other inland areas midges are problematic during late spring and summer. The worst affected crags have standing water nearby or are located in dense woodland and should generally be avoided after 7.00pm (i.e. Llanbradach, The Darren, Cwm Dimbath).

The best crags for a first visit are:

The Gap - A good spread of fingery vertical routes between Fr.5+ and Fr.7c.
The Darren - Steep routes between Fr.6c+ and Fr.7b+ with a few good warm ups on the slabs.
Trebanog - Predominantly short traditional climbs on solid rock with reasonable protection.
Navigation - A mix of trad and sport on slabs, a nice location.
Tirpentwys - Grades between Fr.4 and Fr.7b+ (mainly in the lower end of the spectrum).

Complete List of Sandstone Crags
Pages in category "South East Wales Sandstone"
The following 62 pages are in this category, out of 62 total.