Cwmcarn
From SWMC Guidebook
Cwmcarn
Name
Cwmcarn Quarry
Rock Type
Quarried Sandstone
Parent Crag
Eastern Valleys
Climbing Type
Sport/Trad
Located
S.E. Wales Sandstone
Lat/Long
Approach Time (mins)
5
Faces
South West
Seepage
No
Suitable Weather
All Weather
Midges
No
Tidal
No
Climbing Possible
Access Notes
Access
Restricted
Start Bird Ban
Bird Ban End
Bird Ban Notes
Restriction Notes
Crag List
Contents

GR ST (3)21984 (1)93881
Lat 51.638300 Lon -3.1287405
NP11 7EQ
PREAMBLE
A secluded south facing crag in a pleasant woodland setting.
A rejuvinated mixed 'Trad' and 'Sport' sandstone crag.
Routes up to 20m in length.
Many aretes and corners.
A genuine Winter venue, because it faces south, gets any sunshine and does not seep.
ACCESS
From J28 of the M4, follow (Forest Drive signposts) the A467 to a roundabout where the A4048 carries on to Wattsville (Bumpsville) and the A467 swings right to Brynmawr. Follow the A467 to the next roundabout (large sculpture of mountain biker) and take the exit right.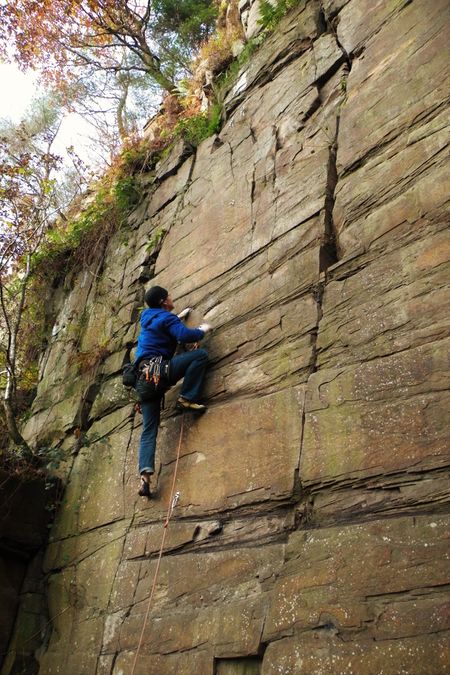 Take the first left, Newport Road, to Cwmcarn. Take the 4th right, just past the post office, into Park Street and take a left (any of the first three) into a back street and park considerately. Follow the footpath up between some tin garages into the woods via a very steep and narrow path, which leads to the crag.
THE ROUTES
The first routes start in a square cut bay on the left hand wing of the crag.


Endosperm - Fr. 5a
The far slab is a snip at this grade. Will improve with traffic. 12m


Jiffy's Twitter Spat - Fr. 6a+
Short wall left of the crack. 10m


The Luddite - HVS, 5b
The crack is blessed with a peg and bolted lower off. 11m

The crag now gains its full height in a series of sharp corners and aretes.



Archaeopteryx - Fr. 6a *
The corner and overhung flaky bulge sharing the belay of the adjacent route.


Terrordactyl - Fr. 6a+ **
The first big arete, started up cracks on its left. Move up the corner off a ledge and around onto the left side of the bulging arete. L.O. 22 m


The Phill - Fr. 6b+
A tall face, keeping left of the corner and close to the arete. Still a little brittle in places and needs a safer lower off (best leave alone for time being until the first ascentionist or another benefactor installs a slightly lower belay). 20m


Pig in a Cage - Fr. 5a
The second corner from the left. Use a long sling on the L.O. of Tweaking Lats and continue up ledges to rope on tree and S.S. L.O. rings. 22m


Tweaking Lats - Fr. 6a *
The middle arête. Deviation to the left drops the grade to Fr 5c. Strict adherence to the arête warrants Fr.6a and requires a big span. 18m


Feeling Totally Hacked Off! - Fr. 6a
The bolted corner. Out of a storm of dust and midges was born this future classic of the genre. BB. 16m


Where There's A Killer - E3, 5c
A serious route. Take the third arête, left of the words 'Killer Will'. Go up a short rib to a ledge and continue up the right-hand side of the main arete to pull on a sapling and gain a small ledge. Continue until it is possible to move left into a corner to finish or use BB of next route. 18m


Clint Yeastwood - Sev, 4a
The corner. Passing threaded chock and stumps. BB. 16m

The next routes take the promontory in the center of the crag.


Face The Rap - E2, 5c
Climb the left-hand arête of the promontory, PR, studiously avoiding the pillar on the right. Single BB. 18m


Take the Rap for Beating the Crap - Fr. 6b **
An independent line up L side of promontory pillar then the wall above left of the faint crack to ring belay. 18m


Rap Crap - E3, 5c
Start in the centre of the face at the initials 'MC'. Clamber up ledges to gain some cracks which are followed to a ledge and a long span up the final headwall. 18m


Nick's Line - Fr. 6a+ / 6b+ *
The groove on the right side of the central promontory, left of Yeast from the Undergrowth. Move right to the arête at half (6b+) or three quarters height (6a+). 16 m

The following climbs start from an elevated ledge system which is easily accessed from the left.


The Yeast from the Undergrowth - XS
The stump filled gully, left of the Eyeful Tower. Once, protection and holds were predominantly of the 'woody' variety, now you have to make do with loose rock and mud. 20m



Eyeful Tower - Fr. 6b+ *
The tall central tower, starting off ledges. 15m


Polyphemus - Fr. 6b+ *
The tower to the right of the tottering cyclopean blocks. Fortunately, small holds lead you rightwards, away from the looseness. 14m


Squeaking Bats - E1, 5b
Follow the slim corner, past a sapling, to a BB. 11m


Red With Rage - E3, 5c
Climb the wall right of Squeaking Bats past two horizontal slots to reach a long layback edge. Follow this until jugs lead to a (sort of) BB. Using the large ledge on the right is strictly for cheats and will result in exile to Penrhiwceiber. 11m

The routes are now started from ground level, in the pit.


Crimson - Fr. 6c *
Left of Yellow Tower is a line of bolts with a distinct large ledge at half height tagged by 'Martin Price'. 15m


Auf Wiedersehen Mate - Fr. 6b
The twin cracks left of the corner. L.O. shared with previous route. 15m


Pus in my Boots - Fr. 6a *
Start up the Yellow Tower and drift onto the left side of the arete. 12m


Yellow Tower - Fr. 6b+
The fairly obvious tower, graffitied 'MC' and with a distinct spill of yellow paint. Wait for a new bolt to be placed to make moves off the ledge safe. 12m


Like It Then Lump It - Fr. 6b+ *
The high square cut groove. 16m


Sour Grapes - Fr. 5+
The green arete. Much better and harder starting to the right of the bolts (Fr. 6a). 16m


Cwmcarnage - Fr. 6b *
The green cracks are ace. Lower off Sour Grapes. 16m


Project
The steep green corner.

On the dark side of the pit is a highball boulder problem.


Afterlife - V5+
Highball! Solo the small, blank wall facing the Main Wall. A one move wonder, a big dyno at a fair height. Great fun though and very nerve wracking if you have no mats! 6m

Above the right side of the pit is a shorter wall above half height.


The Willy Whacker Project
The green corner, lifting the skirt of hanging brambles revealed the moist delights of this crevice. Open to all, hurry now to bag the first ascent of this oozing crack before it's defiled by the drill. Traditionalists could top out or adopt the quaint 1980's fashion for lowering off the ab rope. 16m


The Terrace Gardener - Fr. 6a+
From the left side of the terrace a tricky start up the cracks leads to a tree and bolt belay


Bramble Pitt Gets Hammered - Fr. 6a+
Use a low slot to make a long reach for the good rail.Continue steeply over the small roof.



Corneal Abrasion - Fr. 6b
To the left of the blocky roof. Could bring tears to your eyes if you don't stick clip the tricky start. Alternatively buy a bolt and put it in the lower hole. 8m


Stumbling Block - Fr. 6a+
Has defied the efforts of a crowbar but make your own decisions if you go ahead with it. You won't be capable of "running to me complaining" if it all goes pear shaped.It seems obvious but belay over to the left


Lisa Likes 67 - Fr. 6b
To the R of the jammed block roof on the top tier. 8m


Drop Knee at 67? - Fr. 6b *
The excellent square roof/chimney succumbs to flexible leg techniques.The lower off karabiner and sling have been stolen so use your own or wait for replacement. 8m


First Ascents
Left hand wing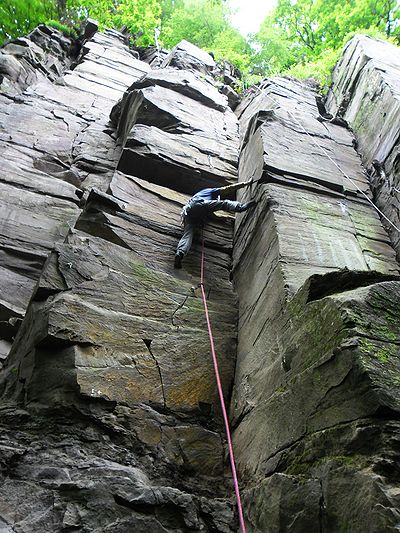 Nick O'Neill R.Thomas 29.07.2016
A.Rosier, M.Wright 20.05.2016
A.Rosier, R.Thomas 04.05.2016
R.Thomas G.Ashmore 05.01.2017
A.Rosier, R.McAllister 26.07.2016
M.Wright, A.Rosier 20.05.2016
A.Rosier, R.McAllister 12.05.2016
R.Thomas, M.Wright 06.05.2016
R.Thomas, A.Rosier 25.05.2016
M.Crocker 27.12.1990
A.Rosier, A.J.Rosier, C.Wyatt 04.06.2016

Central promontory.


M.Crocker 27.12.1990
R.Thomas, N.O'Neill 08.05.2016
M.Crocker 27.12.1990
N.O'Neill, R.Thomas 08.05.2016

Right hand wing.


A.Rosier 00.00.1996
A.Rosier, R.Thomas 04.05.2016
A.Rosier, R.McAllister 12.05.2016
M.Crocker 27.12.1990
M.Crocker 27.12.1990
M.Wright, R.Thomas 05.05.2016
A.Rosier, R.McAllister 26.07.2016
R.Thomas, M.Wright, R.McAllister 17.05.2016
M.Wright 05.05.2016
R.Thomas, M.Wright 23.05.2016
A.Rosier, R.Thomas 25.05.2016
A.Rosier, R.Thomas 25.05.2016 (Right hand variant 05.06.2016)
Project
M.Wright 05.04.2016

Upper terrace.


Project open
R.Thomas, M.Wright 16.05.2016
R.Thomas, M.Wright 16.05.2016
R.Thomas, M.Wright 04.05.2016
R.Thomas, E.T. Jones 17.07.2016
R.Thomas, M.Wright, A.Rosier 03.05.2016